So you are going to develop using chips from ST. Those Italians and French have not only great food, but great chips! One will need a programmer and a debugger. They have this nice new STLINK-V3, looks good, let's get it. Cool, now we need to connect it to OUR board.
From our previous developments using dsPIC from Microchip, we fell in love with their robust version of the spring-loaded Tag-Connect cable: RJ12-6-pin male connector on one end; Tag-Connect 6-pin on the other end. They call it TC2030-MCP (bulkier, has plastic snaps holding it to PCB) or TC2030-MCP-NL cable (no legs, pictured). We like it so much, that we always place the Tag-Connect footprint into all our schematics.
We want to use the same cable for all our projects. And we want to connect directly into the programmer. (Yes, there is a special soft ribbon cable for the STLINK-V3, called TC2030-CTX-NL-STDC14, but we did not feel like locating yet another cable plus we feel that Microchip's version of the cable is much more rugged for production. Manufacturer itself states, that this cable has the disadvantage of very fine pitch of the ribbon cable which is less robust and might not last as long. However, at least you don't need the mezzanine add-on board with these cables).
So the question is, how to connect the more robust Microchip's cable to STLINK-V3? Our first approach is pictured below.
(Note: For STLINK-V3MODS and STLINK-V3MINI see our other post).
Well, that is pretty messy. The problem is, that ST previously used SWD header (6-pin 2.54 mm pitch single row) and this new programmer introduced a new higher performance STDC14 (FTSH-107) style micro-header connector (2-row 1.27mm 14-pin). We want to connect to this new connector directly, without the mezzanine attachments, which creates a not-so-nice programmer tower with an open bottom and a myriad of headers, jumpers…
So we tinkered a bit and the result is our new TESLA AD01 Adapter. It will convert the new STDC 14-pin connector found directly on the STLINK-V3 programmer into 6-pin SWD signals on our female RJ12 connector, allowing you to use the robust Microchip's version of the Tag-Connect cable.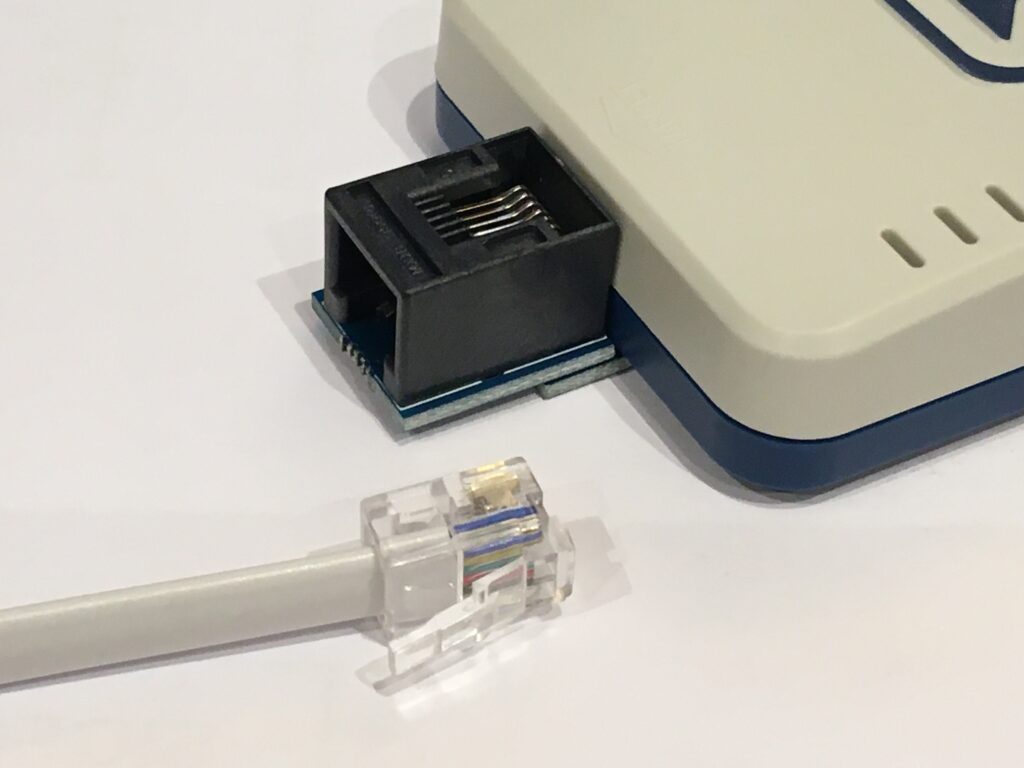 If you are interested to get one, just email us. We can send you one for 11 Eur. The price includes shipping to your door via Slovak Post Office International Economy service.
Our adapter consists of two small boards and a (DIN7991 M3x16 A2) stainless steel screw replacing the original shorter screw. Note that the STLINK programmer nor the Tag-Connect cable are not included.
It can be assembled in two simple steps. First one is to plug the TESLA AD01 Adapter into the programmer's STDC14 connector.
The next step involves securing the adapter in place, else it could unplug when moving the cable around. Place the retainer board over the adapter board and secure it in place with the included longer screw.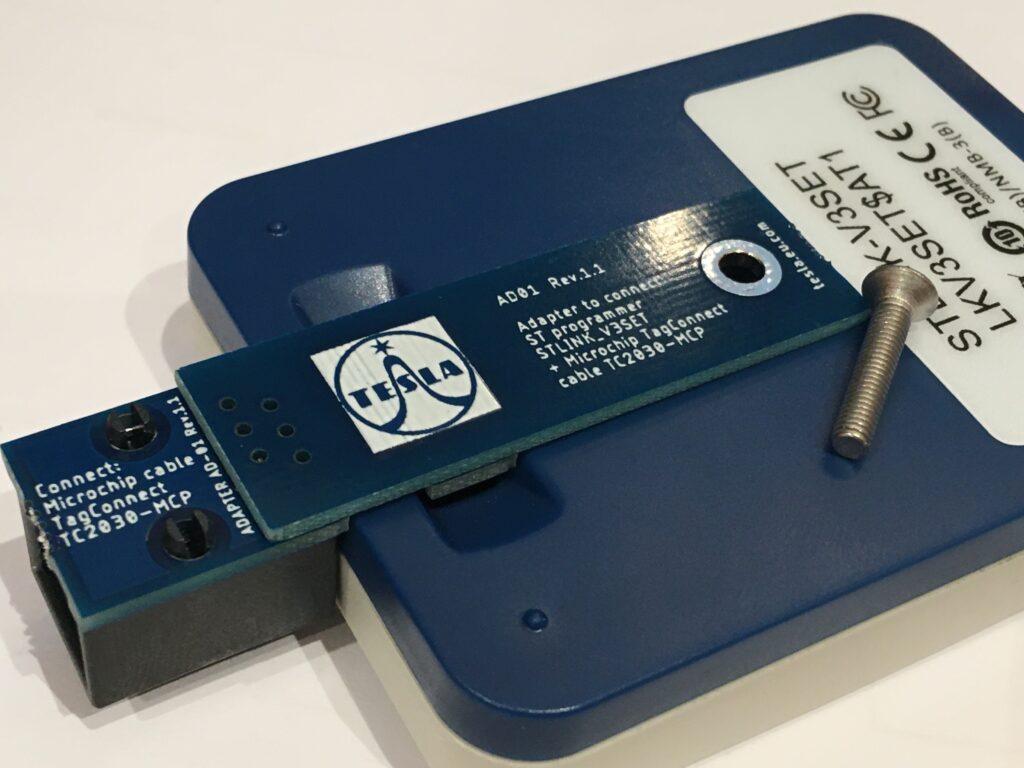 Done. Looking forward to hear from you.